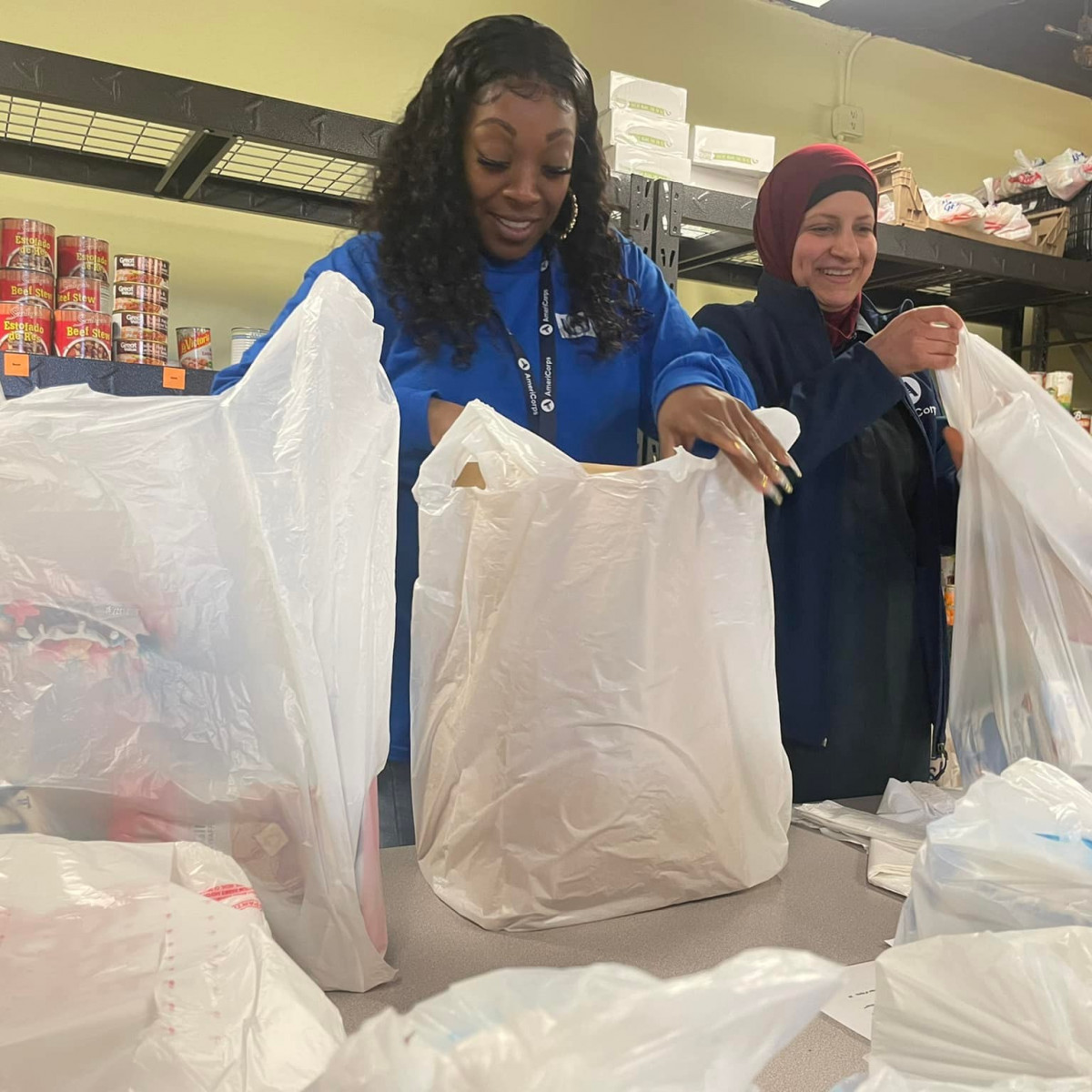 /
People First AmeriCorps X Utica Food Pantry Service Project
People First AmeriCorps X Utica Food Pantry Service Project
Posted on March 19, 2022
As People First continues to celebrate our AmeriCorps week, we would like to recognize the dynamic partnership that People First's AmeriCorps members have with the Utica Food Pantry. Our AmeriCorps members chose to do a service project during National AmeriCorps Week, and chose to fill the pantry shelves since they were running low. Our team constructed a list of much needed items, contacted local grocery stores, and got to work!
People First AmeriCorps members have been stationed at the pantry are dedicated to assisting families and individuals in need by alleviating their immediate pain and problems regarding food insecurity and moving them toward self-sufficiency and financial independence for a number of years, and still report there weekly.
The food insecurity rates among adults in Oneida County/Utica are staggering. 12% of people in Oneida County are food insecure, while 1 in 8 struggle with hunger in CNY. According to a new study by the nonprofit group Hunger Free America, the Utica-Rome region had the state's highest level of food insecurity in 2018-2020 at 19.4%. The child food insecurity rate is at 20.2%, and the number of food-insecure children in Oneida County is 10,000.
Kiyomi Pearson and Hajer Al Alaysh share their experiences as AmeriCorps members dedicating their time at the Utica Food Pantry. Kiyomi has been with AmeriCorps since November of 2021. Kiyomi has experienced seeing more families come to the Utica Food Pantry as the food prices rise in the area. She expressed that "times are tough right now but she is so glad that she can help out her community."
Working at the Utica Food Pantry, Kiyomi loves the opportunity to give back and be there for people to help them during hard times. She stated that "I appreciate it when people are there for me so it means a lot that I can be there for them."
Kiyomi's favorite memory working for AmeriCorps is when a young student from another country came seeking help to figure out the steps to receive an education here in Utica. Kiyomi expressed that "she was a little hesitant to ask for help but I was able to speak with her and get her on track to get an education."p
Hajer Al Alaysh has been with AmeriCorps since February 2022.Since being at the Utica Food Pantry, Hajer has experienced helping people when they are in need. Utica's refugee population is at 19.4%. When people come into the Food Pantry, Hajer is happy to help translate in her native Arabic language. Working at the Utica Food Pantry means helping the community to Hajer. "I am happy to do it for the community and give back." Hajer said. While working at AmeriCorps and the Utica Food Pantry, her favorite memory is giving back. "Giving and providing people with food is a memory I will always have." Hajer expressed.
The Utica Food Pantry is a vital partner to People First and the community.
"AmeriCorps is an intricate part of the People First Organization. The team of eleven members provides important services that enhance the quality of life of our residents and the community members we serve. This week is a celebration of our teams commitment to our community." said Dave Zogby, Director of People First' AmeriCorps Program. "This year our members chose to celebrate this week by also getting our community involved in our service to the community by launched a call to action to help fill the shelves of Utica Food Pantry. Utica Food Pantry has been a community partner to People First for years, and this is our way of giving back to such a valuable community resource for so many who are struggling currently.".
"AmeriCorp has been a life saver to Utica Food Pantry because we have been stressed due to inflation and higher food costs. We are currently helping new families that have never been to our pantry prior, and without the support and community response we wouldn't have the product available that is needed", said Russell Brooks, Chairman of the Board of Utica Food Pantry. "AmeriCorp steps up each time we have a need, whether that be working the front desk, stock- ing the shelves, or raising support to gain product for our pantry".
For more info on Utica Food Pantry visit their website: https://www.uticanyfoodpantry.org